Connect with your inner adventurer and sign up for one of our Lost Coast eco tours to explore the rugged wilderness that still exists on the Mendocino Coast. Since there are no highways on or near the coast in the Sinkyone Wilderness State Park, the area has come to be called "the Lost Coast."
Join us as we literally get off the beaten path and venture into one of the few coastal wilderness areas in the United States. We'll explore spectacular coastal habitats, climb ridges, and experience captivating panoramic views.
These moderate hikes are perfect for adult couples or groups looking to experience the authentic California coast. Choose from:
Black Sands Beach to Mattole shuttle – $85 per person; minimum of 6 persons to reserve shuttle
Usal to Mattole shuttle – $100 per person; minimum 6 persons to reserve shuttle
Usal to Hidden Valley or Four Corners shuttle – $100 per person; minimum 5 persons to reserve shuttle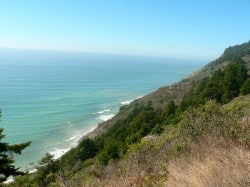 A Path Less Traveled
Offered May-October, 7 days a week
Pick-up times: 10:45-11 AM
Return time: approximately 5 PM
Quality binoculars included
Tour Description
Our Lost Coast eco tour begins with our complimentary pickup at your location in the city of Fort Bragg, village of Mendocino, or another designated pick-up spot. We then head north through the storybook town of Westport along the rugged coastline.
The adventure begins as we ascend the steep climb up the unpaved road that takes us to the southern heart of the Sinkyone Wilderness. We then make a dramatic descent to the Usal beach and campground area where we find the wooded trailhead.
From here we set out on foot and hike into a truly wild region where you'll enjoy splendid views with the binoculars we'll provide you with. Home to a wide variety of wildflowers, mushrooms, and wildlife, your expert local guide will identify for you the flora and fauna along the trail.
After admiring the gorgeous panorama of the Lost Coast, we'll descend back to Usal Beach, where your picnic lunch will be ready and waiting for you. Here you can relax, examine the fascinating tidepools dotting the shoreline, and grab a few pics of the resident Roosevelt elk that hang out by the beach.
Then it's time to load back up and retrace our journey back to civilization, where we'll leave you with a refreshed outlook on our wondrous planet.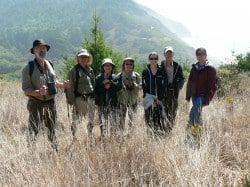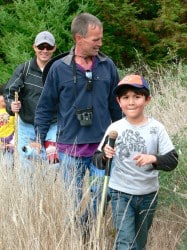 Wilderness Tour
This 5 to 6-hour tour is weather-dependent as the road isn't navigable when it gets muddy, after heavy rains. Note: this is a wilderness tour that involves a 1.5-hour scenic but windy drive each way plus 2 hours of moderate hiking.
We require our guests to use appropriate footwear for this hike (e.g., tennis shoes, hiking books, or other outdoor shoes). We also recommend wearing layers of clothing as the weather is unpredictable. Also, a small day pack is helpful and… don't forget your camera.
Since there are various insects and poison oak in the area, we encourage you to take appropriate precautions in your clothing and use of insect repellent. If you have any questions about the above, please don't hesitate to contact us for more information.